About Us: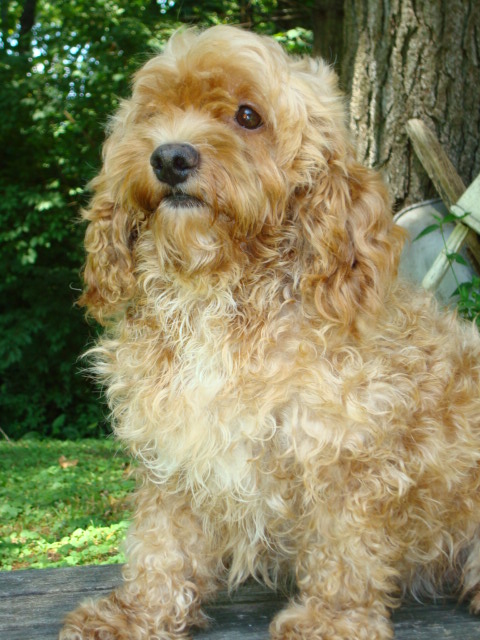 Madonna (our first puppy at 4 1/2 years old)
We are a small kennel located in Terre Haute, Indiana, which is located about 75 miles southwest of Indianapolis. We established our business on December 10, 2004 - Betsy and Rudy gave us one of our first puppies Madonna (see above). We breed Cockapoos all year round, but also breed a litter or two of Labradoodles per year. We only breed a litter of Cocker Spaniels when one of our females are retired. Our adult dogs are AKC and CKC registered. We live on 11 acres and have 9 children ages 3 to 27 years old and 4 grandchildren that help with the socialization of our puppies.

Our puppies are born and raised in our home around people at all times. The Cockapoos, and Cocker Spaniels have their tails docked at 3 to 5 days old and dew claws removed. Labradoodles dew claws only. Puppy shots start at 6 weeks of age and we crate train our puppies starting at 4 1/2 to 5 weeks old. Crate training a puppy at an early age makes it much easier to house train them after they go to their new homes at 8 weeks, especially if you work with them the first 3 days home. We also do several wormings starting with Nemex-2 at 2 weeks and Safe-guard at 4 and 8 weeks old.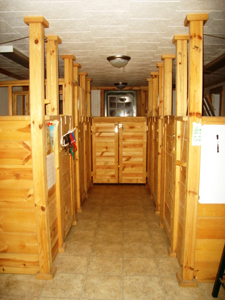 Above is a picture of our kennel indoors. Our dogs are provided with a clean facility, equipped with air conditioning and heat. They never have to deal with weather conditions and are able to roam indoors or outdoors during the day.
We accept paypal, cash, money order, cashiers check or check for a your $200.00 (non-refundable) puppy deposit. Cash, money order or cashiers check at pick-up ONLY, for the balance of payment due. NO PERSONAL CHECKS AT PICK UP! Paypal can be used at pick-up as long as it has gone through before pick-up.
Most of our puppies are priced at $800.00 and up depending on breed, type of coat, color and if they are F1 or F1B puppies. Price includes 1st puppy shot, several wormings, tails docked (except Goldendoodles), vet checked, puppy kit (includes sample bag of Purina Puppy Chow and puppy information), 1 year health guarantee, CKC registration, crate training, and pictures every weekend until pick up at 8 weeks old. Puppies must be paid for in full at 8 weeks old if not picked up until a later date.
We will ship puppies 8 weeks and older. They will be shipped from the Indianapolis Airport and the cost is ~$300.00-$350.00. Shipping price includes shipping crate, health certificate and ticket. We ship Continental or Delta depending on the temperature at the time of shipping and the area being shipped to. If you have any questions please email or call contact information below.
Contact Information:
Dee Dee Harruff
11378 North County Road 850 East, Lewis, IN 47858
(812) 495-5057 or (812) 249-8971